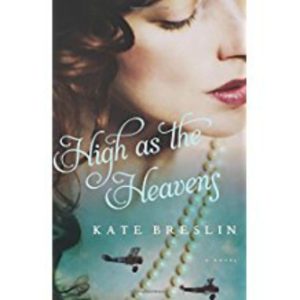 HIGH AS THE HEAVENS
During my many years of school, the one class I didn't do well in was History. I'll never know for sure, but I have a theory–the  teachers ruined it for me when they expected me to memorize so many dates. Also, I'm a hands-on, visual person, and the History books were hard to relate to at that time. Historical fiction, however, shows the past in a unique, creative way. I'm now fascinated by History.
Author Kate Breslin opens the door to yesteryear in her Historical fiction, with a touch of romance, released last month. In HIGH AS THE HEAVENS, I stood alongside the characters as Kate wove them through a war amidst conspiracy, deceit, secrets, infiltrators, faith, hope, and a love that would stand the test of time.
Book Cover Synopsis
A British nurse in WWI German-occupied Brussels, Evelyn Marche spends her days at the hospital and her nights working at a café…or so it seems. Eve's most carefully guarded secret is that she also spends her nights carrying out dangerous missions as a spy for a Belgian resistance group.
When a plane crashes as she's en route to a rendezvous, Eve is the first to reach the downed plane and is shocked to recognize the badly injured pilot as British RFC Captain Simon Forrester. She risks her life to conceal him from the Germans, but as the secrets between them grow and the danger mounts, can they still hope to make it out of Belgium alive?
My Favorite Quotes from HIGH AS THE HEAVENS
WAR
"With every barrage of blue notes came the pain of remembering those who she had lost: her uncle, sister, brother…and the man she loved."
DECEIT AND SECRETS
"As he opened the tome and glanced inside, his pulse pounded. He'd discovered Eve's secret."
CONSPIRACY AND INFILTRATORS
"Meet package, 2300 hours. Groenendael Priory."
ADVENTURE
"An incomparable sense of freedom filled her as they soared through the heavens
like two birds in flight."
FAITH
"Eve remained where she stood, saying a silent prayer for his safety…and for her own."
HOPE
"…she wrapped her arms around him, clinging to the man she loved,
clinging to the hope of their future."
LOVE
"Do you love me? Her husband had asked that same question, and through his gentleness, his patience, and his understanding, he'd drawn her out from behind the wall of her pain."
My rating: 5 stars out of 5
Can't get much better than Kate Breslin for romantic Historical fiction. Romance readers will
'feel the love and devotion.' History lovers will be fascinated by the way Kate unveils Eve's journey through WWI. HIGH AS THE HEAVENS is one book I couldn't put down.
A very special thank you to Kate Breslin and Bethany House Publishers for providing me with a promotional copy of HIGH AS THE HEAVENS.
www.KateBreslin.com Creating Stories to Inspire
FOR SUCH A TIME
NOT BY SIGHT
HIGH AS THE HEAVENS
"As the heavens are higher than the earth, so are my ways higher than your ways and my thoughts than your thoughts."
Isaiah 55:9