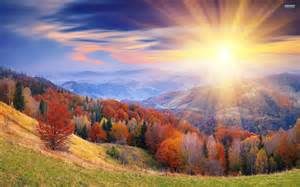 Not a day goes by without a sunrise or sunset.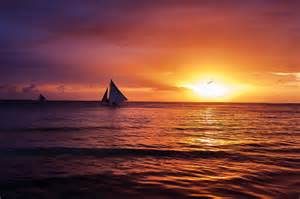 Imagine the creation of the dawn and nightfall. Take the prettiest sunrise or sunset you have ever seen and multiply the intensity by a number too big to write. The sun makes quite a statement during its comings and goings.
Since I sleep rather late in the morning, I rarely see the sun escalate above the horizon. But, I'm confident in the daylight that will join me on my adventure each and every day.
If you know me at all, you're aware I often post pictures of sunsets; especially when I'm traveling around our beautiful country. No matter where I go, I'm in awe of the changing sky. But once the sun has descended, the dark of the night isn't necessarily my favorite part of the day. I prefer the promises that a new morning offers.
My first thought when the light of the sun streams into my bedroom is that I'm overJOYed for another day of life. I've been known to thank God before I step out of my bed for the opportunity of a brand new day—one with a clean slate. But when my feet hit the floor running, my adventure begins.
The JOY of the day ahead of me, I spend time alone with my Creator before I shower, dress, and have my breakfast—a fruity-protein-power shake. Once I'm dressed, I'm raring to go. That doesn't mean I'm out the door, although sometimes there are places to go and people to see. More often than not, there's much to do on the home front. I'm certain you know what I'm talking about.
Since I'm a writer, it's imperative that I structure my day. I plan time to sit in my office or the patio to contemplate, research, and write to my heart's content. My favorite routine is to do one household chore after every 500 words I write or one chapter I edit. An achievement of 2000 words or a four-chapter edit is a good day for this writer.
On other days, I squeeze in time to write. I enJOY quality time with my grandchildren. I might pick up a child from school or watch one play sports. The youngest treasure, a three-year-old grand, spends at least one day a week with me while her parents work. She shares my love for books. We always head to the local library for a story or two and a few books for her book bag. Julianna is still young enough to have an afternoon rest, and when she does, I use the time to work on my latest creation.
Once a week I get together with a couple of my writer friends. I have another group of women who meet with me one day a month. The powerful women from these two groups give me great insight into the writing field. Their passion for creating stories and growing as writers matches my own. I'm thankful for these friends who give me JOY and help me see the sun, even on gloomy days.
By eight each night, I'm ready to wind down. You'll usually find me lounging next to my husband in a comfy chair with a book or quilting project in my hands. The sun has dipped into the horizon and night surrounds me. When I'm tired enough to fall to sleep, I climb into my bed and ponder my day. As I drift into dreamland, I'm thankful for my journey and hopeful for a blessed tomorrow.
~~
I always thought of myself as a night person because I stay up so late and sleep until mid-morning. As much as I like beginnings, however, I fancy myself a morning person. I sprint through the day and at the end, embrace the promise of tomorrow.
How about you? What's your favorite—morning or night? Sunrise or sunset? Or do you get JOY from both?
Make it a JOYful day from dawn to dusk, my friend.